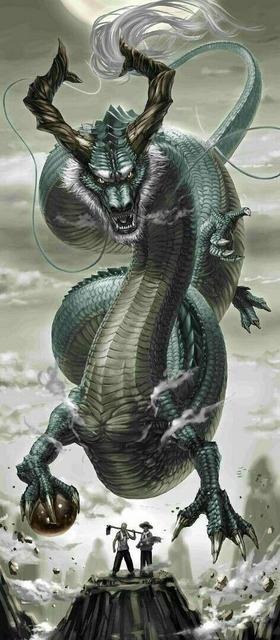 The old dragon couldn't help but look at the young chuunin near him with a look of surprise, but in its current state the injured spirit could barely lift its head and thus could only partially glimpse the figure with the large left eye. A slow trick of blue life essence dripped from the numerous wounds which by themselves would not have been to hard to endure but with so many of them it was only a matter of time for his life to fade. He'd been left here to suffer a miserable death and to wallow in the regret of having attempted to challenge the current clan leader for his position, Ryu had truly been much to impatient...perhaps if he'd have waited another century or two and continued to perfect his divine archery technique to the pinnacle. Maybe then he wouldn't have suffered such a loss at the Leader's hands on this day only a short while ago before being tossed down into this small valley after losing the ability to fly.
"
Hey kid...you've really fallen into a problematic situation…
" Just to speak the words to Asuma took a bit of time and energy from the weak azure scaled dragon that laid completely stretched out upon the ground now. The reason he'd said this was because if anyone were to see the human here in the dragon realm he'd be killed as the proud dragon race would never lower themselves to serve under the charge of a human let alone anyone else for that matter. It only complicated things that he was now at Hiryuu's side it would appear that he was even trying to aide the dragon which would just push the desire to kill the child even more in the eyes of the other dragons who had disowned the dying dragon. But things were completely negative because at this point in time the white robed scholar was still seated in the lotus position allowed for his eyes to snap open.
'
There he is, but he's so far away. This is definitely not a realm that I've managed to visit in my traveling...who would have thought that something like this could have happened. I should go…
' Quietly the man stood up and brought his hands together into a blur of hand seals as he targeted the location of the space-time bracelet that his young student was still wearing. Without this it would have been nearly impossible to accurately locate just where the chuunin had been tossed off to, even spending years worth of searching might have still been a fruitless venture on the travelers part. With a slow exhale the man chopped forward with a knife hand now using the left hand to perform the action, a tear formed in the space in front of him and without a second's hesitation now the powerful jounin stepped through. From directly behind the young Suna-nin a tear would open up in space as from it a slender hand first appeared followed by the flowing white robes of the genma host's master.
After completely stepping through the hole in space corrected itself quickly closing as the jounin felt the wetness in the humid air almost attack his skin as it was even hotter than the Sand village that he'd just come from. A jungle style environment that housed a number of large and dangerous animals and insects that were all prey in the end for the supreme spirit race here in this realm, the Dragons. The slender fingers of Zao's right hand would land upon the boy's right shoulder, perhaps without even him noticing the figure appearing through the spacial tear a moment earlier. He was ecstatic to find that his young student was unharmed from being tossed through space but his face couldn't help but change quickly at the sight of the injured dragon. '
A dragon? He's badly injured, as well. Is the foe that caused him to end up in such a sorry state still nearby.
' "
We should get going, Asuma-kun.
"
He spoke to the chuunin now, but his bright blue eyes had yet to leave the site of the dragon before him, a bit hesitate to leave the dragon but he honestly feared being assaulted by whom ever had managed to injury Hiryuu as well. If he'd been here exploring by himself it would have been a different story but with the weaker shinobi in tow, things were much different and he wouldn't allow for an incident like the one in the past to reoccur here. "
Shinobi, help...me…
" The dragon had been able to see through its slightly blurred vision now that the strange white haired human had been able to enter the realm on his own accord, most likely to retrieve the young human. Someone this powerful could possible save his life but how would he be able to convince them to risk their own life for his? "
...I...I'm willing...to serve you...please save me…
"
'
This spirit…
' Zao couldn't help but feel a bit tempted by the sincere offer from the dragon, though they were prideful they were also rather powerful with each dragon normally having their own unique abilities, but one thing that was as strong as their pride was their word. If one gave their word to another it was a binding thing which they would rather die than break. "
There's no guarantee that I can save you…
" He looked from the dragon and now he stepped forward shoulder to shoulder with his young student, glancing over to him now as well. Was it worth it to try and save the dragon spirit?