Username:
Zao
Owner:
Zao
Stat Trainings:
(0/25)
---
Zoukingu

[Zou or King]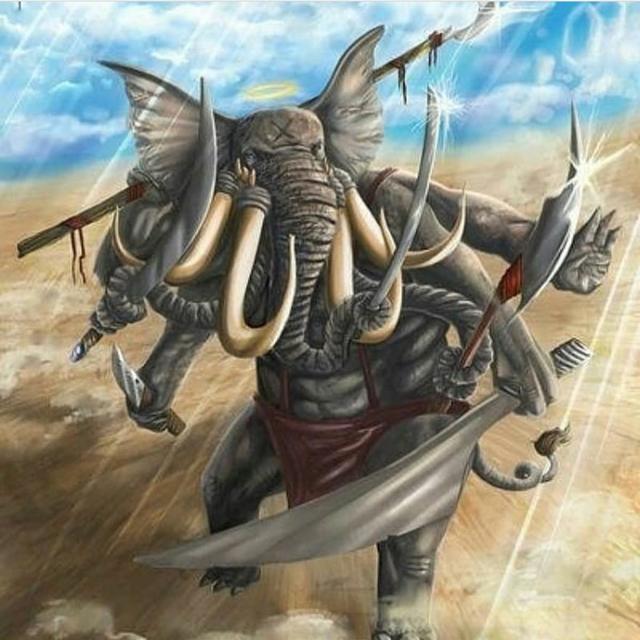 General Information
Type:
Elephant Spirit
Gender:
Male
Age:
500
Appearance:
Face/head: The breed of elephant that Zou is from is known as the 'emperor race' of the elephant spirit realm, due to this the normal elephant features are different in that the head of the elephant spirit has four large, curved tusks on each side of its main trunk and three trunks instead of the normal one. Normal large elephant ears can be found on either side of the spirit's head as its aged grey skin shows the marks of battle as several large and small scars can be seen. Lastly are a pair of jade green eyes found within.
Body: Zou's body is one that is designed to stand on two legs instead of a four, having a slightly humanoid style body. The elephant has four long, muscular arms with four fingers on each that are a mixture of claw and hoof. The spirit has a muscular torso and tree trunks for legs as the feet of the spirit are similar to that of normal elephant feet having wide feet for better stability and four toes. In total size the creature is twenty five meters in height with its arms being lanky at nearly twenty meters on their own.
Notable Features: Four arms, four large tusks, and three trunks for starters and a number of old battle scars found throughout the spirit's body from a lifetime of battle.
Personality:
General: The elephants stern speaking method is one that gives the spirit the intimidation factor when combined with the spirit's tall stature and unique features, causing him to give off an air that commands respect of those below him. While he doesn't consider himself to be a god like spirit, he does draw upon his roots as a royal member of the elephant realm's ruling family feeling above others. This causes for him to be a rather proud beast and sporting a bit of an ego, always ensuring that those around him know of his background and not standing for someone that wishes to trample upon that pride. When not interaction with others the spirit can normally be found meditating on the art of battle or praying to the Gods, retaining his rather religious ideals from when he was a young elephant before being pulled away from his home realm. When push comes to shove, Zou will gladly erase an opponent from existence that dares to challenge him or his new master. Sometimes considered to be a ruthless, evil spirit that is not to be taken lightly by anyone unless they wish to meet a swift death due to the life it has lived while sealed within the mysterious wall of Juu. Though the beast is starting to transition out of the ruthlessness after having been freed from its binds within the wall now serving under Zao's command, its personality and outlook on life shifting and changing as it is able to live a different life than before.
Hopes/Dreams: Being freed from the bonds of the labyrinth, the creature wishes to see the human realm and the other spirt realms before ultimately returning to his own home realm and family, having dreams of becoming the Elephant Emperor.
Fears: Being sealed away as he was before, preferring death over that life again.
Combat Mentality: The elephant spirit's combat style revolves around fighting at close range with one or more opponents using his shield to defend and multiple swords to attack simultaneously or the elephant will go full offense using all the swords at his disposal and slinging the shield onto his back.
Battle Information
Rank:
A Rank
Stats
160/250
Ninjutsu: 1
Taijutsu: 35
Genjutsu: 1
Stamina: 30
Control: 1
Strength: 45
Speed: 30
Instinct: 17
Equipment:
Armor and shield image
Show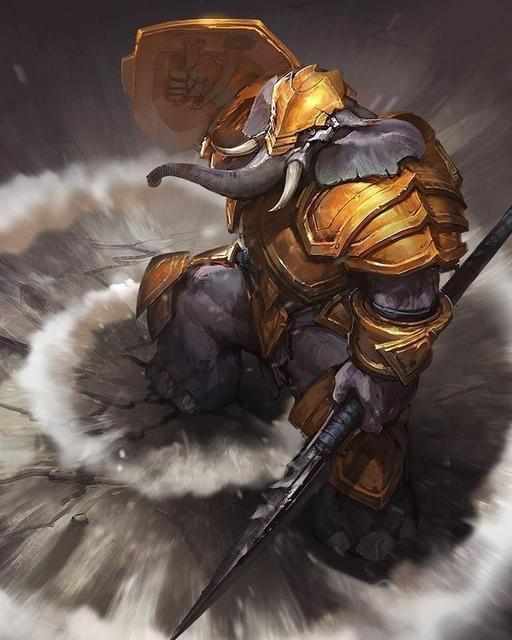 Armor - Golden armor that consist of a helm, torso armor that covers the upper torso, shoulder pauldrons, and a groin plate, forearm bracers, and armor on the upper thighs that goes down onto the knee caps of the spirit.
Shield - A twenty five meter tower shield, golden in color with the royal seal of the emperor elephant race engraved upon its front with a pair of straps in the center of the shield's underside so that it can be held securely with one or two hands.
Swords - The creature has eight, ten meter long scimitar style curved blades. Four strapped on his back, two over each shoulder, and four secured around his waist with two swords on each hip.
Leather Skin - The elephant's thick leather-like skin doubles almost as a type of armor, having a durability equal to the spirit's [(Strength+Stamina)/2].
Tusks - The elephant's powerful tusks have a strength directly equal to the spirit's [Strength].
Elemental Affinities:
Doton
---
Abilities and Concentrations
Abilities
First Ability

Giant Tank:

The elephant spirit has the natural ability to grow to a size above its normal rank (Gigantism) and has the passive ability to regenerate from wounds, based on its stamina stat. (-5 Stamina debuff after acquiring ability)
[Requires: 15 Points and C Rank PB to unlock.]
Concentrations
Ninjutsu
[Place them here]
Taijutsu
[Rigid Structure, Swords, Shield, Perception]
Genjutsu
[Place them here]
---
Jutsu
Divine Bulwark:

Zou's personal style of fighting relies around the heavy use of his shield to beat back or knock aside the attacks from his opponents or even the opponents themselves and then use either the massive shield or his swords to counter attack with, using sheer strength and the number of weapons to batter foes into defeat. This style allows for the user to be adept at fighting one or more opponents at the same time due to its specific defensive nature in combination with the elephant's rigid body structure.

Requires: Shield, Sword, Perception, and Rigid Structure concentrations.
[Ambidexterity]
D-Ranked Taijutsu Discipline
Through their of training the user has learned to use both of their hands with equal skill, allowing them to not only fight with a weapon in both hands but also to switch hands should the need arise.
[Block Inside]
D-Ranked Taijutsu Discipline
Having mastered this Discipline, should they be in close quarters combat, their body instinctively blocks with their shield to the inside of an attack which keeps them centered on their opponent's torso for follow up attacks. These dodges are only successful if their average [(Taijutsu + Strength)/2] is greater than the Strength of the attack they are attempting to block
[Block Outside]
D-Ranked Taijutsu Discipline
Having mastered this Discipline, should they be in close quarters combat, their body instinctively blocks with their shield to the outside of an attack which forces them to be constantly moving around their opponent. These dodges are only successful if their average [(Taijutsu + Strength)/2] is greater than the Strength of the attack they are attempting to block.
[Seamless Skill]
D-Ranked Taijutsu Discipline
A skill utilized by those on the path to mastery of their weapon, users of Seamless Skill are actively able to transition between offensive and defensive usage of the aforementioned weapon. By transitioning so seamlessly, the user is able to save a marginal amount of energy while attacking.
[Smashing Block]
D-Ranked Taijutsu Discipline
The user will turn the defense of their shield into a powerful offensive weapon, meeting an opponent head on and smashing through them with their shield as the striking weapon, dealing damage over a large area of the target if they are overpowered by the strike's strength. Effectively blocking and attacking in the same movement.
[Arms, Legs, and Trunks]
C-Ranked Taijutsu Discipline
Through the spirit's training he has learned to not only use both sets of arms with equal skill, but also all three of his trunks allowing for them to be used with the elephant's physical stats as though they were simply another limb.
[Increased Awareness]
C-Ranked Taijutsu Discipline
Prerequisite: 15 Instinct
A discipline involving the mental preparation for the constant movement and striking involved in the user's fighting style. This enables the user to gather snippets of vision, sounds and tactile sensory information in order to be properly aware of the battlefield around them whether standing still or in rapid circular motion. The user is effectively aware of their surroundings within Instinct/3m of their person, able to recognize when attacks are coming and the body positions of opponents.
[Evasive Maneuvers]
C-Rank Taijutsu Discipline
The user has learned to maintain accuracy while on the move. This allows the user to move at full speed and even change directions without interrupting their rhythm.
[Keen Ears]
C-Ranked Taijutsu Discipline
The user's sharp senses and battle experience allow for the user to be able to instinctively assess which variation of existing disciplines would be most efficient in response in the given situation based on the targets attacks or actions.
[Grounding Stomp]
C-Rank Taijutsu Maneuver
Lifting one foot off the ground the large summon will then slam it's large foot down into the ground causing a minor earthquake, which makes it harder for opponent's with ([Strength+Taijutsu/2] lower that the spirit's [Strength] to keep their footing. The minor earthquake will reach out [Strength] meters in radius from the elephant spirit's impact.
[Counter Block]
B-Ranked Taijutsu Discipline
When a technique of the opponent's is blocked by the user's shield or other weapon, the user will instinctively strike with one or more weapons they aren't blocking with, throwing one or more strikes into the openings created by the block.
[Mighty Shield Bash]
B-Ranked Taijutsu Maneuver
The user will look for their direct path and position themselves with their shield before them towards their intended target. Pushing forward with all their strength the user charges forward to meet an opponent or attack head on as they attempt to smash through with the shield. If the user's strength is high enough they are able to use their shield to smash through nearly all obstacles on their path and create extreme damage to opponents who are hit by it.
[Divine Bulwarks Resolve]
B-Ranked Taijutsu Maneuver
Prerequisite: 35 Strength
A defensive skill trained by the spirit allowing for the creature to use its giant shield use to even guard against some chakra based attacks. By placing his feet a bit more than shoulder width apart for balance and holding the shield out at the ready with two arms wielding it, the elephant readies himself against any and all incoming attacks. Pitting his sheer strength against those of their opponent's in an aim to reflect nearly all attacks launched at them at 1/2 its original strength. The spirit will strike any solid attack in such a way with the shield in order to prevent cuts, pierces, or abrasion and send it towards their opponent at full force. Such a display is taxing and can only last for a number of posts equal to (stamina/10). This cannot reflect attacks that bypass the user's strength
[Quake Stomp]
B-Rank Taijutsu Maneuver
Lifting one foot off the ground the large summon will then slam it's large foot down into the ground causing a minor earthquake, which makes it harder for opponent's with ([Strength+Taijutsu/2] lower that the spirit's [Strength] to keep their footing or move at more than half their normal speed. The minor earthquake will reach out [Strengthx2] meters in radius from the elephant spirit's impact and continues for two posts.
[Side Step]
A-Ranked Taijutsu Stance
A stance that concentrates the user's power and agility into their legs, enabling them to dash short distances (5m max) at maximum speed without acceleration time after a moment's preparation.
[Sensitive Ears]
A-Rank Taijutsu Discipline
The hearing of an elephant is rather are incredibly sensitive to vibrations of all kinds allowing for him to pick up on sounds and tremors in the area around the spirit. Through training his sense of hearing, the spirit is able to hear loud or obnoxious sounds from up to a distance of two hundred meters away. For things of average volume, such as the sound of someone walking or running, the sound of a weapon being drawn, a projectile in flight the user can pinpoint their exact location within fifty meters of his person. In terms of eavesdropping he can discern a conversation at such a range as if he were standing next to the person whom is speaking. This allows him to tell where the sound is in relation to him and how close they to him, requiring a stealth technique of higher rank to fool the Elephant's sensitive hearing.
[Ultimate Earthquake Stomp]
S-Rank Taijutsu Maneuver
Prerequisite: 40 Strength
Lifting one foot off the ground the large summon will then slam it's large foot down into the ground causing a large earthquake, that will cause major destruction and devastation within the radius of the technique. The earthquake caused the ground to break apart and move about increasing the difficult for opponents with less ([Strength+Taijutsu/2] than the elephant's [Strength] to keep their footing. Those with five less [Strength] than spirit will suffer damage from crashing into the ground, with the damage increasing as the gap between the target's [Strength] and the elephant spirit's increases. The earthquake will reach out [Strengthx4] meters in radius from the elephant spirit's impact and continues over the course of two posts.
History
Zoukingu is from a royal race of elephants from the elephant spirit realm, which is the cause of his extra features, as the more tusks and the larger the tusks are the more strength an elephant is regarded within the races of elephants. This derives from a believe of their gods and the appearance the God's of the elephant races whom closely resemble those of Zou's specific race of elephants, which in turn lead to them serving as one of the three great ruling families of the sprit realm. But the young elephant, around the age of sixty, was forcibly summoned to the human realm by a powerful group of human's who resided within a mysterious country by the name of Juu. It was there that the elephant was then bound to the human realm through a powerful Tenku technique and forced to serve as a guardian of the race of human. In the end the elephant was trained to fight and serve as a guardian within the inner labyrinth of the grand wall of Juu serving as the first line of defense against those who might wish to invade the powerful nation. During this time not one human was able to bypass his position within the deadly maze of killing formations, traps, and spirits. But about two hundred years ago the spirit who was bound to the maze stopped hearing from the Juu countrymen, as though they had suddenly disappeared leaving him alone within the maze.
A fate that almost caused for the now old elephant to contemplate ending his own life but his pride of being a royal blood elephant was to strong in the end and as fate would have it the spirit would have an encounter with two Suna shinobi attempting to make their way into Juu through the old labyrinth nearly two hundred years after the disappearance of those who sealed him within that place. After a fierce battle with the two, the shinobi known to him only as Zao broke the binding formation by using a binding formation of his own. Though he still serves under a human, this one he feels is rather different from those who brought him to the human realm first and ultimately he hopes to be able to return to the realm of elephants after serving this young man...