Username:
Jesse
Points:
37/766
Trainings:
8/50
Companions:
(1/1)
Prestige:
[Connections]
---
---
KYUUDAIME RAIKAGE
.
NAKAJIMA HAYATE
"A man truly steeped in controversy, as a young child many of his family participated in the failed coup against the Raikage and were executed... Breaking free of those shackles he became a legendary Jounin and in the darkest hour of Kumogakure fought alongside the 8th Raikage Akino against the demon Raijin. When Akino fell, Hayate did not falter and he fought the demon, defeating it. His heroic deed did not spare him from controversy for long however as he killed a feudal lord in self-defense, kicking off a civil war. Hated by his own people, Hayate acted as a phantom descending upon battlefields and stopping fights and turning the tides of war against the Murakami axis. While the truth of his story came to light and after defeating the opposition in a final battle and ascending to the position of Raikage and leader of Lightning Country, many are still unsure of the man."
[

仲嶌ハヤテ

Nakajima Hayate ・ 

神話

Mythos  ・ 

戦術分析

Tactical Analysis  ・ 

術

Jutsu ]
"Hayate was a less than remarkable student but darn was that kid stubborn. I don't think the word "give up" was in his dictionary. Even at 0% he'd still be going. In sparring classes after getting his clocked clean he'd get right back up for another helping... But the most interesting thing? You could sit him next to anyone and after a few days of chit-chat they'd be mates- even his bullies. His positivity was almost contagious and it was clear that kid would be a leader someday."
[ALLEGIANCES]
Lightning Country
[RANK]
Raikage
[IDENTIFICATION]
| | | | | | |
| --- | --- | --- | --- | --- | --- |
| Gender | Age | Height | Weight | Eye Color | Hair Color |
| Male | 35 | 6'0" | 180 Lbs. | Light Green | Silver-White |
[Physical Description]
Built with a commanding stature and presence, Hayate is moderately tall and packs potent well-toned muscles. His dark-beige skin is rough from training and relatively scar free; the exception being his right rib cage and a scar from his right temple to his jaw. His light green eyes and stubble compliment his handsome and symmetrical face which is framed by his jaw-length hair and bangs that fall gently upon his face. Since becoming Raikage he tends to have deeper bags under his eyes- a sign of the job's extremely long hours and many sleepless nights.
As far as attire goes, Hayate tends to wear his ceremonial Raikage hat and white haori. Beneath this he wears his combat gear which mainly consisting of his Kumogakure flak jacket, his golden rope belt, white shorts, and a pair of black rubber tabi with white stirrups. His thighs down to his feet are tied in layers of bandaging for support and he additionally wears a pair of white-steel shin guards and a pair of black forearm guards. Around his neck is a long white scarf- a stainless steel plate bearing the Kumogakure symbol bonded to it. Additional equipment pouches are also worn on his person to hold accessories.
[Psyche]
Considered a paragon of justice, Hayate is a very ambitious man with both a bold view on humanity and hopes to improve life for the human race through the proliferation of chakra. Whether on the battlefield or in a speech to his countrymen, Hayate also has a unique ability to motivate those around him through his words of optimism. His optimism is not to be mistaken for naivety however and the man has indeed become far more shrewd since the war and his over half a decade as Raikage.
To most, stories of Hayate precede his character and many imagine him as a firm and authoritative leader. Those who know him on a more personal level however often find Hayate to be confident, charming, kind, and relaxed in his interactions. With years spent as an academy teacher he has a special affinity for children and tends to be the sort of man how bows to his underlings just as much as they bow to him as a superior.
Despite being of good character his flaws are still evident; obsession with justice, light alcoholism, sushi addiction, and an insatiable infatuation with long legs.
He got out, in between coughs. "I'll use the last of my chakra to give you a little help.. protect the village.. the village." with a final breath Akino transferred his aura onto Hayate, giving him a golden cloak of lightning. The former Raikage was dead, his eyes soulless.

As Akino died, a bright yellow aura embraced Hayate, his body surrounded in the magnificent light that had once embraced Akino. He could have held on. He could have kept clinging to life until help arrived. Yet he had chosen of free will to give his life to Hayate, to give him his aura. To give a shitty, weak, normal jounin his powers. To give a mundane man a chance to fight the threat that had slain him...
The Mythos of Nakajima Hayate
Show
The year's summer solstice festival had been an exceptionally warm summer night, the festival-goer's only solace being the moderate breezes which rolled down the peaks and cliffs of Kumogakure. One important family was not in attendance at this year's event and were instead huddled in the municipal hospital waiting room, exhausted from anticipation of the new life soon to be born. Today, a new Nakajima generation would be born, and with him, a new era for the Nakajima politicians.

The soon to be parents sat in the hospital room, hand-in-hand as they awaited the arrival of their son. The labour had not been easy for the mother. She had taken on a respiratory infection and the unusually long labour had clearly taken a toll on her. Regardless she would not let herself waver. She would see her baby boy. She pushed and screamed and did all she could, and finally, the cries of the newborn filled the room.

The mother's face was now nearly void of all colour, her eyes closing as they cleaned her boy and put it in her arms. Fighting the desire to leave this world she opened her eyes and stared into that of her baby boy's. His eyes where windy, like the very gales that buffeted the mountaintops. With her final might, she kissed him on the forehead and called out his name. "Hayate." As her eyes closed and the monitor released a screech, her husband's tears of joy quickly turned to sorrow, the nurses taking the baby boy and leading him out of the room.

They were unable to resuscitate her. The Nakajima had lost a daughter-in-law whom they had cherished, and Hayate's father had lost his soul mate, his very light. Some found solace in the newborn whose eyes and complexion matched that of his mother, however for that reason Nakajima Hayate would always be a reminder of his mother. He would always have to endure the fact that his very existence brought pain to his father. His existence was owed to his mother's death and his father had lost everything for him.

It was only natural that, given the guilt Hayate bore, he did not spend much time with his father growing up. He took any opportunity to be at a friend's house or outside, and his father didn't seem too concerned about that, until of course Hayate began to show an aptitude for the ninja arts. In the Nakajima family only three members had ever been shinobi. Hayate's Grandfather Masahiro, his Great Uncle Akihiro, and his Uncle Mizuko. It was said that Masahiro and Akihiro were extraordinary ninja who had mastered the element of lightning. Mizuko on the other hand was noted to be a sub-par wind user. This meant it was a big deal when Hayate was capable of performing basic ninjutsu at the age of six, and for a man who wanted political power, Kadou's son serving in the military would only improve his already rising approval ratings.

Thrust into the academy following his departure from the normal academia schooling of Kumogakure, Hayate often earned some of the highest marks in his group and some of the lowest causing many to question his consistency. While he wasn't the best, he was intelligent and easily learned a wide-variety of skills. While in the academy Hayate continued to prosper as a shinobi and a person. It was here that he had met Kushina, who would later become the love of his life.

His training had proved successful and at the ripe age of twelve Hayate had easily based his exams with flying colours, earning the rank of Genin. He was still only average in strength but his ability to learn new techniques had begun to shine, his utility becoming endless and allowing him to perform roles in a wide-variety of missions. Bouncing squad to squad due to his versatility, Hayate found himself spending every moment of his off-time with Kushina, whom he even trained with now as he hoped to pursue a career as a chuunin. He hoped he could someday become Raikage so Kushina could love him too. Things however would soon turn for the worst.

Almost two months from his fourteenth birthday, the Nakajima, became one of the most ashamed families in the history of Kumogakure. That morning his father Kadou, a notable politician who criticized the "hand-holding" state of Kumogakure had tried to lead a revolution in Kumogakure. Along with his brother they attempted a coup d'etat on the Raikage. The band of assassins and shinobi however swiftly failed, dying at the hands of the Raikage and his bodyguards, but not before causing one of the bloodiest events in the last 50 years of Kumogakure.

Hayate was shocked. How could his father have been this vile? Willing to cast away his name Hayate developed a deep hatred for his father and the horrible life he had left Hayate. Hayate continued to retreat from the world, and even Kushina. She would never love and never deserved a man like him… she deserved better. People had ridiculed him on occasion and to the point that he had considered taking his own life and ending the Nakajima line. It wasn't until the Fuyuki couple, a pair that had once taught him in the academy, had noticed his pain and reached out to him.

Mrs. Fuyuki and Mr. Fuyuki had retired from teaching due to their expectancy of a daughter, and the couple wound up becoming surrogate parents for the boy over the course of a year. Sometime after the birth of the daughter, the Fuyuki couple perished, and though Hayate initially had pushed back towards his negative ways, the light Mr. Fuyuki had shown him had shined through. He would become a man worthy of Kushina's love. He would become the Raikage. He would help everyone like the Fuyukis had helped him and he would protect this village as a champion!

He trained nearly every day and thought he was a far cry from the clan powerhouses, he managed to clear his chuunin exams by being exploitable with no glaring weaknesses, and exploiting his opponents weakness to genjutsu. People once more began to note his unique ability to cover a wide-range of techniques. His first year as a chuunin however wasn't so successful

Placed in a large platoon on an important mission, Hayate was sent to gather intel on a group of C-Rank missing ninjas. The missing ninja were far stronger than the C-rank estimate established by their ranks prior to leaving Kumogakure, and Hayate's platoon was quickly overwhelmed, himself being taken hostage by the missing ninja. The platoon leader soon after ordered a retreat, however Konjo refused claiming it was not the way a true Kumogakure shinobi would behave. Suou, his girlfriend insisted on staying with Konjo till the end. Konjo and Suou had been acquaintances since Hayate's academy days, though were a few classes ahead of him. Upon entering the field they had mentored him and become his closest comrades.

As the other three chuunin in the platoon retreated, the two Chuunin tightened their headbands and took their positions, adamant on saving their friend. Konjo's leg had been broken and Suou was running low on chakra, but they didn't show even an ounce of fear or hesitation. They lept into the cave, the two weaving and instantly dispatching one of the missing ninja who had not been paying attention.

The remaining three missing ninja doubled back to Hayate, who laid on the ground, his leg broken as-well. Konjo quickly filled the room with smoke, Suou launching a genjutsu triggered by his smoke, flawless in their teamwork. The three missing ninja however were stronger than any trivial genjutsu Suou possessed, in before they knew it, one of the missing ninja had rushed through the smoke, his katana driving into Konjo's stomach as a blood curdling scream filled the air- but not Konjo's scream. Hayate's eyes widened in shock as the smoke faded. The missing ninja fell back with a kunai in his throat, his katana still stuck in Konjo's body.

Konjo edged forward, stumbling towards the remaining threats, two kunai instantly finding their paths into his chest. He smiled, before falling over. Hayate had only ever been a trap, and with the opponent lured, they no longer needed him. The missing ninja would break the morale of their enemy. One of them sealed, as the ground rumbled. Suou's eyes were filled with tears as she jumped- a rock protruding from the ground in front of Hayate and piercing straight through her, her blood splattering on Hayate's face as he cringed.

She cried. She cried of Konjo. She cried that she did not want to live without him. But in the end she smiled, saying she completed Konjo's goal: they protected Hayate. And Hayate cried. He cried as he stood to his feet, his body swelling with anger and chakra. He cried until a blue cloak surrounded his body. The missing ninja attacked but the swords couldn't pierce the cloak around him. They tried again, their swords becoming stuck in the cloak as Hayate's hands flicked explosive tags at their heads. Before they could remove them he kai'd and it was over.

Reinforcements finally arrived, something Hayate would have never anticipated, however it had been Konjo's plan all along. He was an Ote and Suou was a Jinrai. They had valuable bloodlines that could not get into the hands of the enemy, and all along, Konjo had bet on their own corpses. Hayate could never forget them, and he never quite recovered from the events of that mission, developing a slight dependency on alcohol to prevent his psychosomatic shakes. Spending a lot of time at the academy and following in the Fuyukis' footsteps, Hayate learned to be optimistic once more by working with the children of Kumogakure. They were the future, and their future held infinite possibilities. By twenty Hayate was strong enough to qualify as a Jounin. Ass such the village approached him about becoming a Jounin Sensei, to which Hayate accepted. With restored confidence he visited the home of Kushina, his child-hood love. Kushina was deeply hurt by him shutting her and the world out, and after explaining his desire to be worthy of her love- and confessing his love… Kushina stated that she had always loved him too and she had and would always acknowledge him regardless of who he had been. Rekindled and renewed to be the best man he could, Hayate's life had finally gotten on track.

Training harder than ever Hayate took on two students. Of his students, Hayasu had become his prized pupil and the two had begun to train quite regularly. Together they went on many missions and honed their skills as shinobi and people, Hayate growing to respect Hayasu as a little brother. After several missions, including thwarting a giant evil spirit that had been summoned in lightning country, Hayate had gained many injuries and much fame amongst the people of the village hidden in the Cloud. At nearly twenty-four he hoped to push himself harder than ever and become a Bannin of the village, however the Golden Years of his life would soon come to his close.

Kushina had fallen very ill. It had only been a matter of time until Kushina finally past. Despite having made Hayate promise he would fill his heart again and not retreat from the world once more, the blow had been stronger than any he had sustained before. With permission, he took a break from shinobi life to set out from the village with Hayasu on a five year journey throughout the Lightning Country and the world. During this journey he honed his skills, met Yoho and brought her into Kumogakure, and met the monkeys of Kaisaru. Dubbing this the Lost Years of his life, Hayate learned to synchronize his fighting with his summons and gave birth to a whole new style of ninjutsu, as-well as finding himself before returning to the village and active duty at twenty-eight. Hayasu wished to continue his journey however, and as such the two parted ways.

Fulfilling his promise to Kushina, rather than finding a new lover, Hayate found a child to love as his own and adopted Fuyuki Eiko, the daughter of his former sensei. The two took to each other quickly and formed a very close bond. Things would soon radically change for the twenty-eight year old when one morning, the self-proclaimed God of Thunder infiltrated Kumogakure and began to demolish the city. Having killed the Raikage, his attention was drawn to Hayate. To his horror, the spirit that he was facing was the spirit which he had had thought to have defeated in the Lightning country. His failure to end the spirit had caused the death of the Raikage and the destruction of Kumogakure- but he would not give in.

Rising to the occasion Hayate defeated his fears and self-pity and defended his village, fighting off the spirit and landing an ending blow- though to his dismay the spirit dissipated before he could finish the job. When he emerged from the mountain he was acknowledged by the village as it's hero, and before he knew it he found himself in the presence of the Daimyou as a candidate for Raikage- the position he had dreamed of achieving his entire life.

His dreams however were not as illustrious as he had once imagined. One of the Lords mocked his optimism as he gave his answer to solving the political tension and hate within the Lightning Country. Seeking him out after the meeting to discuss matters more, the Lord became aggravated and attacked Hayate, aiming to break his arm. Having defended himself, he was accused of crimes and was going to be punished, and after the turn of events that had transpired he had realized his mistake. In his attempt to flee the scene, he was apprehended by Lord Banri, a bannin of Kumogakure and the leader of Black Ops. At this point, he struck a deal with bannin. He would become a Black Ops operative while he was a Missing Ninja and operate under direct orders from Banri. A war was coming and Banri needed a powerful piece to move during it.

Though still publicly thought of as a Criminal, throughout the Civil War of Kumogakure Hayate showed up on various battle fields, turning the tides of war and becoming a living legend on both sides of the battle. One such battle was the battle of Ko Bashira bridge, where he alone managed to defeat the enemy forces. His acts slowly healed his public image to the point of him becoming a war hero- and following his assassination of Lord Murakami's wife under the orders of Banri, he was relinquished from Black Ops and allowed to return to Kumogakure as it's new 9th Raikage, relieving Ote Syaoran of his interim post.
"We were getting hammered by the Kusakabe and Murakami forces... even the Jinchuuriki was having trouble keeping up with the sheer numbers... it all happened so fast... we were in a dugout a few clicks south of the bridge when suddenly the wind kicked up and we saw nothing but black streaks mixed with gold. None of us understood what was happening but moments later that guy- the banished one... He was standing there and he called out to the enemy forces telling them to back before any more needed to die... He clearly could have crushed everyone on the field and yet he chose to be compassionate... he was almost like some kind of god. "
[STATS]
| | | | | | | |
| --- | --- | --- | --- | --- | --- | --- |
| Chakra Pool | Endurance | Control | Strength | Speed | Willpower | Mastery |
| 40 (45-5) | 35 | 50 | 30 | 50 | 40 | 50 |
[INVENTORY]
Jacket Pockets: 5x Flash Tag, 10x Exploding Tag, 2x Thick Permanent Markers
Left Hip Pouch: 30x Shuriken, Handkerchief, Anti-Flash Goggles, and Re-breather/Air Filter (Allows breathing under water/filtering of weak particulates C-Rank and below)
Thigh Holsters: 8x Kunai (On each thigh.)
Worn Hanging from Either Side of Belt: 4x Windmill Shuriken (Folded)


Recovered from an ancient Kyoukan temple, the "Noble Engine" is a small ancient artifact in the form of a wood & leather neck-plate that acts as a back-up generator of sort for the bodies chakra pathways. Essentially, if the users pathways are ever blocked or damaged, the engine kicks into gear causing a surge of chakra to flush the users pathways allowing their chakra to continue once more. (Note: This does not stop the effects of Genjutsu. Likewise, Fuuinjutsu is seal based and this does not circumvent seals that inhibit chakra.)

Recovered from the wastes of a northern temple in Lightning Country, Kioku is a legendary artifact in the form of a gauntlet used by the early shrine priests of Lightning Country. Through the use of ancient and strange fuuinjutsu, when Kioku is worn, elemental clones created by it's wielder have a strange fuuin that binds them. The binding seals is powered by their [Endurance], and allows them to persist even when not near their user, in any location until destroyed or until [Chakra Pool] is completely used. Essentially, this makes it so a clone does not disappear when away from the user/after a certain post count.
[ABILITIES]
[1] Starforce

Shortly before his death the 8th Raikage, Kyoukan Akino, passed a mysterious golden, cosmic energy from himself to Hayate, greatly augmenting his power and aiding his defeat of the demon Raijin. Following the battle, Hayate tried to discover more about the lightning-like energy and came to the conclusion that he had become a vessel for a mysterious energy known as the Starforce that had been passed down through generations of Raikage. By becoming a vessel for the Starforce his tenketsu and body were augmented in various ways. Through [Mastery] Hayate has learned to tap into the various powers of the Starforce. A side-effect of becoming a vessel, all of Hayate's chakra and ninjutsu holds a Golden color.

Form 0
In the base form, the vessel has golden chakra and their tenketsu excretes such large amounts chakra that it permeates their skin causing a layer of invisible chakra to surround their body at all times. As it permeates through the vessels tissue and body the chakra causes the hosts body to passively regenerate at the cost of a permanent (-5) chakra drain. The layer itself has no particular effect on the environment or anything around them and doesn't add any defensive or offensive capabilities.
Form 1
In this form, the auto-repairing chakra layer that surrounds the hosts skin can be given a single elemental charge via jutsu, inducing a different effect based on the element granted. Once an element is activated, the chakra will thicken to a strength of [Control].

---

+5 Control
Form 2
In this form the vessel's invisible layer of chakra becomes far more radiant, stretching out in a large [Control x 2] meter radius around them and granting them passive sensory. Until [Control]/2 meters away, the vessel can feel accurately both the distance and size of a chakra source. After [Control / 2] meters however the details become gradually more fuzzy. At the absolute limit of the sensory range, only the rough sizes of chakra pool can be felt with sometimes multiple individuals who are close by being lumped together as one reading.

---

+5 Control, +5 Chakra Pool
Form 3
In this form, the auto-repairing chakra layer outside the hosts skin can be given multiple elemental charges via jutsu, inducing up to 3 elemental effects at a time.

---

+5 Control, +5 Chakra Pool, +5 Endurance
Form 4
In this form, up to 5 elemental effects at a time can be held. Additionally, the vessel can "save" a technique, suspending it to the chakra layer that permeates outside them for later release. Only one technique can be saved at a time with a maximum duration of [Control]/5.

---

+5 Control, +7 Chakra Pool, +5 Endurance, +5 Strength
Form 4 Perfected
In this form the auto repairing chakra surrounding the vessel becomes a lightning gold color and holds a durability equal to their [Control]. This chakra acts like a flexible barrier around the user, sealing them off from the environment around them. Having completely mastered tapping into the power of the Starforce, the abilities granted in form 1,2,3,4 are now usable in Form 0.

---

+5 Control, +10 Chakra Pool, +5 Endurance, +5 Strength
| | |
| --- | --- |
| 4) | First form is now unlockable. Up to C-Rank Jutsu can be used in First form. |
| 6) | Up to B-Rank Jutsu can be used in First form. |
| 10) | Up to A-Rank Jutsu can be used in First form. |
| 14) | Up to S-Rank Jutsu can be used in First form. Second form Unlockable, up to D-rank jutsu can be used in Second form. |
| 16) | Up to C-Rank Jutsu can be used in Second form. |
| 20) | Up to B-Rank Jutsu can be used in Second form. Form 2 Ascended Unlocked |
| 22) | Up to A-Rank Jutsu can be used in Second form. |
| 26) | Up to S-Rank Jutsu can be used in Second. Third form unlockable, up to D-rank jutsu can be used in Second form. |
| 30) | Up to C-rank jutsu can be used in third form. |
| 34) | Up to B-Rank Jutsu can be used in Third form. |
| 38) | Up to A-Rank Jutsu can be used in Third form. |
| 40) | Up to S-Rank Jutsu can be used in Third form. Fourth Form unlockable and up to C-Rank Jutsu can be used in Fourth form. |
| 42) | Up to B-Rank Jutsu can be used in Fourth form. |
| 46) | Up to A-Rank Jutsu can be used in Fourth form. |
| 48) | Up to S-Rank Jutsu can be used in Fourth form. |
| 50) | Form 4 Perfected Unlocked. |
[2] Resonating Chakra
Hayate's elemental techniques have a unique "resonating chakra" that causes chakra from his jutsu to seep into the terrain and environment around him. Effectively, all elemental techniques cast by Hayate have a unique additional passive called "Infusion".

Infusion
Any elemental jutsu cast by Hayate that collides with something will infuse his chakra in it for up to [Control]/5 posts. The size of the infusion starts at the size of the elemental jutsu that contacted it and doubles in size after 1 post. This effect does not work against other jutsu.
[3] Yang-Yin
Perhaps related to his abnormal tenketsu, Hayate had an extreme difficulty molding elemental chakra as a youth. After observation from the sensory and iijutsu divisions in Kumogakure, they discovered the yin-yang chakra in Hayate's body is reversed. Through lots of self-control he learned to mold elements normally, though Hayate has learned in more recent years to utilize his abnormality as an advantage. This ability only applies to channeled elemental technique and by changing how he channels chakra can be toggled on or off.

Because of the polarization of chakra, Yang-Yin elemental jutsu react to other elemental jutsu differently. Put simply, the strength and weakness of a jutsu is flipped. Passives are unaffected. Like a reverse yang-yin world, water erodes the minerals of earth breaking it down and fuels fire, wind forces more CO2 into fire extinguishing it, the dry air of winds makes electricity much more conductive, and the denseness of earth grounds electricity with ease

Yang-Yin Elemental cycle: [<
<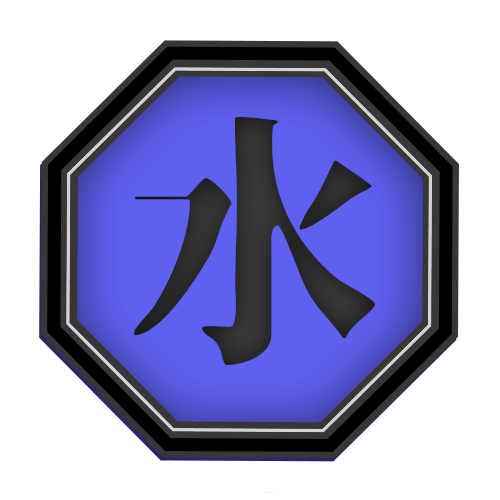 <
<
<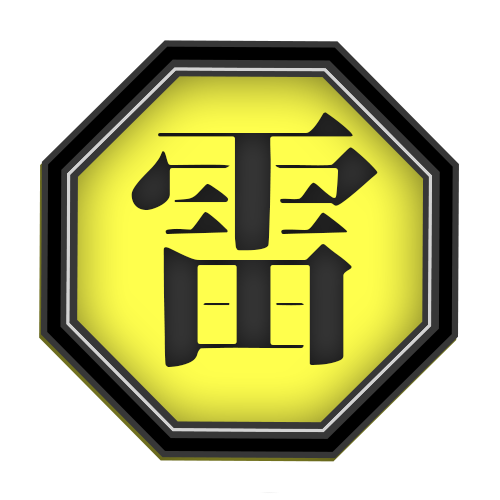 ]
[CONCENTRATIONS]
Ninjutsu
Advanced Channeling,

Raiton Affinity

, Raiton Kinesis, Fuuton Affinity, Fuuton Kinesis, Suiton Affinity, Suiton Kinesis,

Doton

,

Doton Kinesis


Taijutsu Close Quarters Combat, Perception, Acrobatics, Rigid Structure, Arts of Medicine
Genjutsu Sound Initiation, Touch Initiation, Sensory Initiation