Username:
Zao
Points:
13/629
Prestige Perks:
0/0
Stat Trainings:
(12/50)
---
Yami Kasai

[Kiri's Black Reaper]

[Once more into the fray, will I feel release on this day...]
---
General Information
Age:
50
Gender:
Male
Height:
7'
Weight:
260 lbs
Physical Features:
Face/head: Kasai looks identical to the way that he did before creating his elemental body, to fond of his old appearance to change to something different. With a slender face coming down to a pointed chin, the skin of the man's face is pale like many from his village, though the most noticeable feature is a pair of brilliant yellow irises. A somewhat trimmed red bear hides the majority of the face while atop the man's head is long locks of crimson red hair that reach down to around shoulder length and are normally found with a messy uncombed look about it. Most noticeably about the man's face is a long scar that run across the bridge of the nose running diagonally down the left side of the face.
Body: Much like his face and head, the man retained his appearance from before the creation of his elemental body, his features still appear to be those of a well built shinobi sporting developed arms with a muscular chest and abdomen.
Notable Features:Kasai has a few notable feature. His wife's name can be found on the inside of his large right bicep through what appears to be a simple scarification method. For scars the man has two horizontal scars across his chest and one vertical one on each side of his abdomen. Upon his back is a series of interlocking scars that vary in angle but stretch down the entire length of the man's muscular back. Upon his left cheek is a horizontal scar that runs from across the bridge of the nose diagonally down to corner of the jaw bone with a final horizontal scar running horizontally between his chin and lower lip.
Clothing/Accessories:
The man's 'shell of chakra' allows for the man to change the appearance of his clothing through ninjutsu but the standard look for Kasai consists of a traditional grey flak like many Kiri Jounin wear with the exception of it being a sleeveless design with the shoulder protection along with no undershirt. Down each arm starting from just above elbow to the fingertips on each hand the arms are wrapped in black bandaging. The man normal wears a black half ninja mask that conceals the majority of his face for when he is conducting missions. The man's lower torso attire is very simple consisting of standard black three quarter length cloth pants with more black bandaging they stats at the shin and wraps down around each for capped of with a pair of shinobi sandals.
Picture: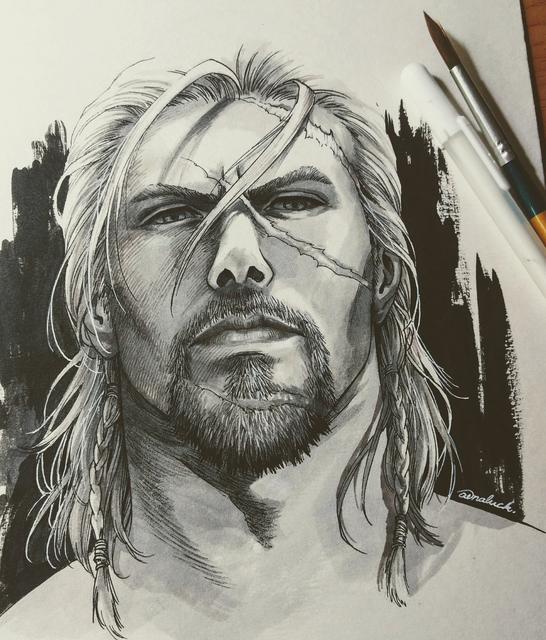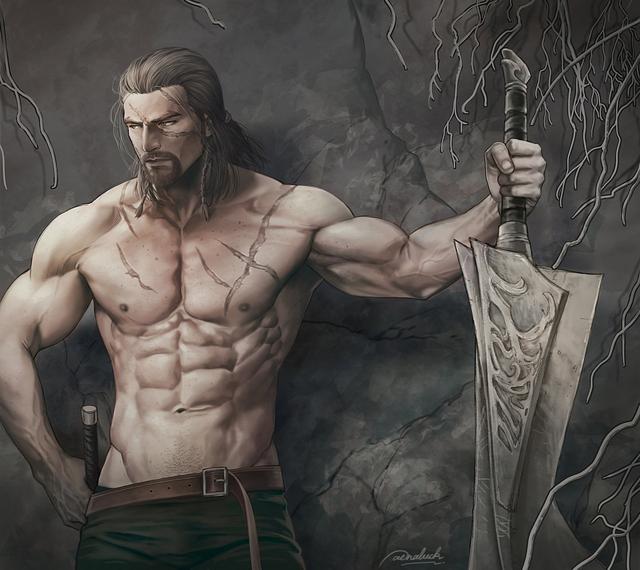 Personality:
General: Through out the majority of the man's life up to around the age of forty, Kasai was a true product of the Kirigakure society and military culture, he will never surrender, never retreat, and wouldn't hesitate for a moment to give up his life on the battlefield for his village in what would be considered a glorious death in his eyes and the eyes of his ancestors. Mostly from the style of raising as a child and young shinobi Kasai has quite the violent demeanor to himself. Easy to anger and quick to draw his weapon if challenged. He's the kind of guy that if someone came up to him and insulted him or village their wouldn't be a moment's hesitation before he punched that bitch straight in the mouth.

Though, the many years of loss have truly taken their toll on the man as before he created his new body he had developed trouble sleeping at night and turned towards such things as alcohol more now then ever in the past when he simply enjoyed a few drinks a day. Like many warriors who have lived through a time of war, Kasai often thinks about the number of lives he has taken often seeming them in his dreams along with all the friends he once had who have also fallen. Some of which he considers personally his fault for not being able to save them or being their for their time in need. This has led to a noticeable decline in the man's mental state which finally led the village to reluctantly removing him 'temporally' from his duties as a jounin.
Hopes/Dreams: To simply find a way to make up for the sins of his life.
Fears: Failing another friend in time of need.
Combat Mentality: His mentality about combat is that is neither good or bad but a deed that must be done, the thought of battle, bloodshed, and violence still brings some excitement to the man. In battle the mid-to-long range fighter relies heavily upon ninjutsu and mist to hide himself from enemies and attack before transitioning into sword and hand to hand combat when inside close range. Now, the man also tries to make use of his new body with what ever advantages he can.
---
Battle Information
Village:
Kirigakure no Sato
Rank:
Mizukage
Stats:
(306/325)
Ninjutsu: 50
Taijutsu: 25
Genjutsu: 26
Stamina: 38 [50-12]
Control: 50
Strength: 25
Speed: 50
Instinct: 39
Equipment:
Reaper's Claws

- A set of wakizashi with black leather wrappings upon their hilts and a dark steel blade measuring exactly twenty four inches over all (eighteen inch blade and six in hilt) in length with a single cutting edge. Worn in an X fashion across the upper back of the man with the hilts extending over the left and right shoulders.

Lower Back Pouch

- A wide pouch spanning the width of the lower back situated across the bottom of the Emperor's Chest Plate. Contains ten kunai prepped with explosive tags, five individual explosive tags, five kunai with nothing attached to them. Also inside this pouch is a small child, about three years of age. Perfectly healthy and happy. Thanks dad.

Core

- Within Kasai's Elemental body can be found a single pale blue stone with the inscriptions of life and death, one on each side of the stone. It measures 5 inches tall, 3.5 inches wide, and 2.5 inches thick that acts as the body's core containing all that is left of the former shinobi's true body. Stone has a durability equal to the user's stamina.
Companions:
(0/1)
Affinity:
Suiton
---
Abilities and Concentrations
Abilities
First Ability

Body of Five Elements:

Elemental Body Ability

A technique devised by Kasai before his transition into an elemental body, having mastered the five base elements the man then went on to create a five elements stone that would serve as the core for his new body. This core has been to the most remote places to fine the purest sources of each elements before then sealing that essence into the stone. The core allows for the user to switch the composition of his elemental body as he wishes as long as Kasai has a complete mastery over that element. Mastery over an element consisting of having the ability to use kinesis in the said element. Shifting to a new element places a one post cooldown on the ability before it can be used to shift to another element.

Requirements: 25 Control, Elemental Specialist, Ability Slot

Second Ability

Dao of the Elements:

Having reached the reached the true apex of elemental ninjutsu, the shinobi has been able to create an elemental core for each of the elements that he's been able to master (Has Kinesis over). Each of these cores serve as the foundation for a single element and have been named Dao cores, with each core representing its own specific element. IE: Dao Fire Core, Dao Water Core, etc. When willed by the old man, Kasai is able to call forth upon the Dao Core(s) and control the dragon shaped manifestations of elemental energy under his control at no addition chakra cost other than the stamina debuff of maintaining each Dao core.

Each of the elemental dragon manifestations will have a speed and strength equal to the shinobi's [(Ninjutsu+Control)/2]. These dragons can be used to attack individually or even combined with other compatible elements to attack, controlled solely through the will of the user, capable of expanding up to two hundred meters in length and between fifteen to twenty meters in width. Each elemental Dao core created draws [-3] stamina from Kasai stamina stat permanently. If one of the elemental dragons were to be destroyed the shinobi would need to sacrifice another [-3] stamina to regenerate it for that specific thread.

Current Dao Cores

: 4 [-12 Stamina debuff]

Third Ability

Dao Merge:


Ability

This is an ability of Kasai to merge his elemental body and core completely with one of his Dao element dragons, allowing for the elemental dragon to increase in size by two fold [x2] as he temporarily becomes one with the Dao Dragon for a number of posts equal to the user's [Stamina/4]. There is a one post cool down period after the user ends the Dao Merge before they are able to conduct another Dao Merge, each Dao Merge conducted cost the user an addition [-3] stamina for the remainder of the thread.

Ninjutsu: Elemental Specialist:

Ninjutsu: Elemental Specialist
Having devoted their lives to mastering the Elemental affinities, this shinobi is classified as an Elemental Ninjutsu Specialist. Elemental specialist are able to devote a total of 10 concentrations to elemental concentrations, unlike most people who are capped at 8. The user is not able to access any specializations that are marked for Ninjutsu Specialist, but instead, can now pick up concentrations marked for Elemental Specialists. Additionally, their two additional concentrations MUST be used for elements. They cannot use them for ninpou styles. However, they are only able to devote a max of 5 concentrations to Taijutsu, and a max of 5 concentrations to Genjutsu.

As a Ninjutsu Specialist, [Kasai] is able to utilize Ninjutsu concentrations reserved for specialists, but cannot utilize non-elemental ninjutsu specializations. Additionally they are able to enter the God Tier [45+] on select stats, and meaning as a specialist they can select stats to break into the God tier. These stats can only be [Ninjutsu], [Speed], [Control], and [Stamina].
Concentrations
Ninjutsu - (10/10)

Ninjutsu Concentrations

Show

Katon:

Katon Affinity

A character with this concentration is able to utilize Katon, and can make and use any custom or archived jutsu that require the Katon affinity. Katon has a passive

ignition

effect.

Katon's effect is

ignition

, which means that all katon jutsu, regardless of effect, start and spread fire from their source. Once a jutsu has been performed, the fire from the jutsu spreads at 1/3rd the speed of the technique, rounded down. That means a C-rank katon jutsu that moves at 13 speed would create subsequent fires that spread at 4 speed. These secondary fires require flammable material to continuously spread, otherwise they will burn out on their own.

Additionally, the strength of burns on organic material from katon jutsu is determined by the ninjutsu stat requirement.

1-10 Ninjutsu Requirement : 1st Degree Burns
11-20 Ninjutsu Requirement: Second Degree Burns
21-35 Ninjutsu Requirement: Third Degree Burns
36+ Ninjutsu Requirement: Fourth Degree Burns

Suiton:

Suiton Affinity

A character with this concentration is able to utilize Suiton, and can make and use any custom or archived jutsu that require the Suiton affinity. Suiton has a passive

enveloping

effect.

Suiton's effect is enveloping, meaning that suiton passively surrounds anything that it makes contact with. Suiton techniques that do not last over periods of times (i.e, exploding techniques) drench their opponents, but long term techniques will envelop anything they come in contact with and maintain a hold on it with the 3/4th strength of the technique, rounded down. This means that if a suiton wave is shot forward with 17 strength, it will envelope and move anything with it that does not have more than 12 strength to resist it. This allows Suiton to fill a very powerful role in eliminating tools from opponent's access and capturing targets.

Suiton Kinesis:

After achieving notable mastery over [Water], the user has developed an expert control over it. Without needing the use of hand seals or an existing technique, the user can shape and direct any existing body of the element of their mastery.

Fuuton Affinity:

Fuuton Affinity

A character with this concentration is able to utilize Fuuton, and can make and use any custom or archived jutsu that require the Fuuton affinity. Fuuton has an

cutting

effect.

Fuuton has a natural cutting property to it, that exists in all jutsu unless otherwise stated. This gives fuuton a unique opportunity to strike with additional power, and to act as a offensive defense. Regardless of their purpose fuuton jutsu passively cut with no distinct pattern at 1/3rd the strength of the technique rounded down unless otherwise stated. This means if someone punched a 19 strength fuuton wall, they would get cuts on their hand applied with 6 strength. This also means that fuuton jutsu specifically designated to cut things can create devastating wound by essentially striking twice.

Elemental Advanced Channeling:

This user has superb chakra control, and has learned to perform jutsu by channeling, without the use of hand seals. The user can channel any ninjutsu that is designed to be channel, and there are no specified parameters in which a jutsu must fall to be channeled by this method. To get this concentration the user must be an Elemental Ninjutsu Specialist, and have picked Control as one of their specialized stats.

Doton:

Doton Affinity

A character with this concentration is able to utilize Doton, and can make and use any custom or archived jutsu that require the doton affinity. Doton has a passive

enduring

effect.

Doton has a passive effect of Endurance, which means that it's power is retained throughout the entirety of the jutsu. All of a single doton jutsu retains the strength of the jutsu, even after the jutsu has been destroyed, and unlike other jutsu, doton does not fade when destroyed. This means that if a doton barrier with 25 strength is cut in half and falls to the ground, a part of that barrier could be picked up and carried as a hand held shield which would still have 25 strength, despite being a fractured part of a jutsu. This creates incredibly potent defenses, making doton a popular affinity among defensive fighters.

Doton Kinesis:

After achieving notable mastery over [Earth], the user has developed an expert control over it. Without needing the use of hand seals or an existing technique, the user can shape and direct any existing body of the element of their mastery.

Raiton Affinity:

Raiton Affinity

A character with this concentration is able to utilize Raiton, and can make and use any custom or archived jutsu that require the Raiton affinity. Raiton has a

shocking

effect.

Raiton has the effect of

shocking

, which means causes it's effect to be diffuse upon impact. In organic material, this causes nervous stimulation which results in numbness, tingling, loss of sensation, and sometimes paralysis. In inorganic material, this means that the strength of the jutsu diffuses across an area 2x the size of the attack. In a jutsu that creates a lightning ball 2m in diameter, if it struck a wall the size of the attack would cover a 4m area.

Additionally, the strength of the nervous effect on organic material from raiton jutsu is determined by the ninjutsu stat requirement.

1-10 Ninjutsu Requirement : Tingling, acute numbness
11-20 Ninjutsu Requirement: Loss of Sensation
21-35 Ninjutsu Requirement: Localized Paralysis
36+ Ninjutsu Requirement: Diffuse Paralysis

Aerokinesis:

After achieving notable mastery over the element

Fuuton

, the user has developed an expert control over it. Without needing the use of hand seals or an existing technique, the user can shape and direct any existing body of the element of their mastery.

Taijutsu - (1/5)

Taijutsu Concentrations

Show

Sword Weapons:

The fundamental skill of [Sword Weapons] indicates the user's proficiency with swords and sword-like weapons such as knives, daggers, sword-breakers and the like. This facilitates their use of related Taijutsu.

Pyrokinesis:

After achieving notable mastery over a single element, the user has developed an expert control over it. Without needing the use of hand seals or an existing technique, the user can shape and direct any existing body of the element of their mastery.

Genjutsu - (0/5)
---
History
Age 0-10
A cry could be heard in the early morning hours from one of the many homes of the small Yami family's housing district. The first child born to this young Kiri couple was a big baby boy, much to the father's wishes to have an heir to pass on his legacy to. Being born with the Hidden Mist village was enough to make things different but also being born of the Yami and it's secret ways and almost military like structure.
Even from the time that he could walk, Kasai was taught discipline. Most kids were allowed to play and make friends while for the child it was more like being in a military boot camp where ones days consisted of physical training and education of combat strategies and the way of Kirigakure. Strength was everything, taught from the time he began learning to speak that as a Kiri-nin there was no such thing as surrender or retreat. That death in the battlefield in service of Kirigakure is the greatest glory one could achieve in life.
Age 10-12
The child's strict military driven lifestyle filed with violence and exposure to the numerous blood based rituals, for him though it was just a normal day in the life of a Yami, who had modeled many of their odd or strange behaviors off the Toukai clan. At the age of ten the as the oldest of the three children, he entered into the ninja academy as ordered by his overbearing father who used his family ties with the Hirohito to ensure the boy's entrance. But the first core of the academy was simply more or less a refresher for the boy from the military like education from the faint tutor, if one could call those heartless bastards that. The first core seemed to drag on but soon enough the first six months were over.
Next came the second core which focused more on actually shinobi skills, this was a nice change of pace. Getting more experience in the shinobi arts along with getting to go head to head with other shinobi families, this was the type of thing he loved the most. The third core started right afterwards and it was during this time a rivalry flared up between the boy and a fellow classmate from another family. But this only excited the young Yami family member as violence was simply in his nature. They fought nearly every day as the end of the core rapidly approached. During the final exercise when they were pitied against one another and told to kill each other a sinister smile appeared on Kasai's face, he was bred for this very thing. Always told that the strong consume the weak and for him there could be no weak Kiri shinobi.
The end result was that the teachers weren't quick enough and the other student was killed by the cold young boy who at this point was proud of his actions. To the shock of the other students who saw the fellow student laying in a growing pool of his own blood, the boy reached down with his still mutated had and cupped a handful of the leaking crimson substance and began drinking it. Steaks of the blood that didn't make it into his mouth ran down the sides of his face, it was the tradition of his clan to drink the blood of their first kill after all. Soon after graduation, the boy was assigned to a rivalry squad with a fellow genin from his class at the age of twelve. It was also at this time that he was gifted with a wakizashi from his father as a graduation present as his training in the art of the sword began...
Age 12-15
During this time period of time the boy began to rapidly mature and grow into a large young man that was already over six feet in height, his muscle tone seeming to grow larger with every training session due to genetics and the type of training he was being placed under. A few years seemed to literally fly by add him and his fellow genin grew to become quite a powerful duo. Kasai was like a massive tank standing at six and a half feet tall at fifteen years of age with his size and power yet despite his size and power with a blade had a certain natural talent in the art of weapon throwing and archer while his partner Jin was able to easily support from close and mid range distances as well through ninjutsu. Both genin were able to obtain the rank of chuunin at the same age and their rivalry squad was disbanded and they were assigned to separate assault squads.
Age 16-18
After being assigned to his assault squad, it was at this point that Kasai began to earn his reputation as Kiri's Black Reaper during numerous skirmishes outside of Water country. Known for his black face mask and bandaging along wish his long range ninjutsu and steal grew his reputation of being known to strike down foes from distance without opponents even knowing that he was there. At the age of seventeen the young man married a distant cousin of his through an arranged marriage through their parents. A bit over a year and a half later Xu, his wife, gave birth to their first children, a set of twins one girl named Ren and one boy named Jin. The next couple of years quickly passed for the youth who continued to grew even more in size and strength, then not long after turning eighteen the shinobi earned the rank of jounin.
Age 19-29
At the age of nineteen the still new jounin requested a special pair of wakizashi be crafted from a pair of master craftsmen of the Hirohito family. This weapon set would later be known as the 'Reaper's Claws' from the sheer amount of lives that were taken by their blades over the years. Over the next couple of years the man continued to build his reputation and the family's reputation through his successes. Several hundred people having felt the wrath of the mountainous man's wrath, the most notable event being when his squad was establishing relations with some of the smaller countries nearby and one lord made this mistake to not only offend the man's gone village but also his clan. After which the Reaper proceed to slaughter the man's entire family before his rage subsided. Though is actions had some harsh repercussions it was a clear example made to all who had ever once thought about committing the same sin, but at this time in the young man's life the village was the most important thing, even above his own family.
After becoming a jounin the man also held a spot in one of the many active assassination squads as well, slowly honing his strength and skills. Preparation in order to possibly one day take over as leader of the of his small family and to attempt to join the renowned Head Hunter Division where he felt his skill set could be utilized. At the age of twenty five the man lost his father to a fast spreading disease that took his life at only the age of thirty seven years of age. At the funeral cremation the members of the family wore the ashes of the fallen man, similar to ritual performed by the Toukai clan for their dead, on their face as tribute to his life and service to Kirigakure. After the funeral the man gained increased vigor to continue increasing his strength and reputation in the family and village, if nothing else then as way to honor his father. Joining the HHD at the age of twenty nine.
30-37
After hitting the age of thirty the man made very good friends with a few members of the famous Seven by the names of Kazuki Ryoga whom he met through a duel where the man demonstrated the power of his blood nintai and the man's wife Ren. The death of these two truly hit the man the hardest up to this point in his life, having lost several friends but none of them as good of friends as he would consider these two. One was killed while defending his family on a return from Iron country, a trip that Kasai had been asked to travel with him only to be called away last minute on a mission. That man was filled with "could of" and "what if" thoughts as he then came moments to late to not long after the Swordsman's funeral to find that his wife could no longer take the pain of losing her husband and had taken her own life. The man's life slowly been filled with these moments as at the age of thirty six his wife would pass away expectantly leaving the man with his two now grown children who truly had nothing to do with their father because of the distance he had kept between his family in order to carry out the will of the village.
38-50
At the age of thirty eight the man would loose his only son who died during a mission for the village, while it was truly a noble death for his boy it took a toll on the man non-the-less and soon after his daughter deserted the village and become a rogue shinobi. At the age thirty nine he met a young woman by the name of Hirohito Yuri, a woman nearly half his age but someone that he found the comfort of her arms several times as they worked together. But in the end the man simply didn't work out, mainly because of the mixed feels of the older man and the thought of his dead wife holding things back. At the age of forty one he was specifically tasked with personally hunting his own daughter as the village had received recent intel on her whereabouts, he was chosen specifically under the pressure of the village and the Hirohito family. Despite all his years of killing and slaughter; be that man, woman, or child. None of it had bothered the man in the slightly but when the man had his child at the point he could have killed her with a simple squeeze of his hand he only placed his hand upon her frightened head sighing to himself before turning to walk away, simply telling her to continue living and that for the first time aloud he told the girl that he loved her. He had never truly been in the lives of his children so in a way it was to make up for some of that by letting her go. But of course this was not the expected result as the man returned to the village to suffer prosecution from both sides of the coin, one being the large family that he was a distant part of and the other was the village itself.
Slowly the man descended into a dark place in his life which affected his mental and emotional status to the point at the age of forty two after failing a number of missions after his failure of dealing with his daughter, Ren, it was deemed that the older man was no longer competent enough to continue up holding the normal duties as a jounin, only further pushing the man down a path of no return of alcohol dark thoughts. Over the next couple years Kasai simply spent his time wandering in and out of the village being somewhat of a has been drunk or bum...seeming unable to find his way back, but still seemingly looking for something to bring him back to the person he use to be. Most people who were not of his era don't even have a clue who the man was or care who the man is anymore. But it was in this darkness that he did the unspeakable, with the help of a trusted elder the man decided to throw away his body in return for a new elemental one, hoping that throwing away the body would in turn help take away the pain it was racked with...though the man has yet to recover enough to rejoin the shinobi ranks, some that still remember her wonder if he ever will. Then three years ago the man simply disappeared, having left the village to wander the main continent in search of his purpose for still living along with searching out five powerful elemental spirits to seal their core essence into his own core. He has not given up on the village or its shinobi, but more so he needs to rediscover whom he is before he returns to the Hidden Mist.